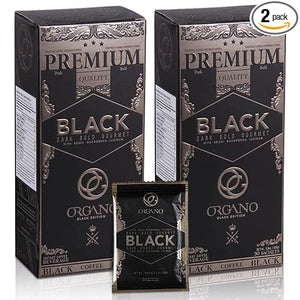 2 Boxes Organo Gold Black Coffee,100% Certified Organic Ganoderma
KEY INGREDIENTS
Coffee – one of the most popular beverage in the world.Uses a strong, easy to mix instant coffee that is bold and flavorful. Portable and convenient to carry, for on the go instant coffee benefits.
Ganoderma lucidum– also known as the red Reishi mushroom, this mild flavor adds a note of depth to the coffee flavor and brings its own benefits. Ganoderma mushrooms provide triterpenoids and amino acids. Ganoderma mushrooms are 'adaptogens'.
Ganoderma lucidum has been used in traditional Asian culture for thousands of years. The name Ganoderma lucidum means "spiritual potency", while the Japanese name Reishi can be translated as "King of Herbs".
DID YOU KNOW?
Coffee has many benefits. It has been studied due to its antioxidant and nutrient profiles. Several studies have showed that instant coffee can be higher in antioxidants compared to other brew methods.
HOW TO USE IT
Empty 1 sachet into your favorite cup, fill with hot water, stir, and enjoy!
Can also be mixed, cooled, and served with ice for a cool coffee treat.
6 oz. (170 mL) – Rich and flavorful
8 oz. (225 mL) – Smooth and creamy
10 oz. (285 mL) – Light and flavorful
Expire on 12/2024
Manufactured in Malaysia
---